Main Content Starts Here, tab to start navigating
Kruse Markit



Coffee.
Beer.
Wine.
Amazing Food.
Collectively
Cool Humans.
Slide 1 of 4
Slide 2 of 4
Slide 3 of 4
Slide 4 of 4
Oh. Hi.
We're Kruse Markit & Bistro, a group of good people making good food that's good for you.
Coffee, Beer, Wine... we're doing it all because it makes us happy. And we want to make you happy, too.
We'll even have a shopping mart stocked with quality supplies. It's quite simple, really.
So, if feel-goodery is your sort of thing, consider us your new neighborly outpost. We'll be here to welcome you in with a hot one or a cold one!
4237 Nicollet Avenue
Minneapolis, MN 55409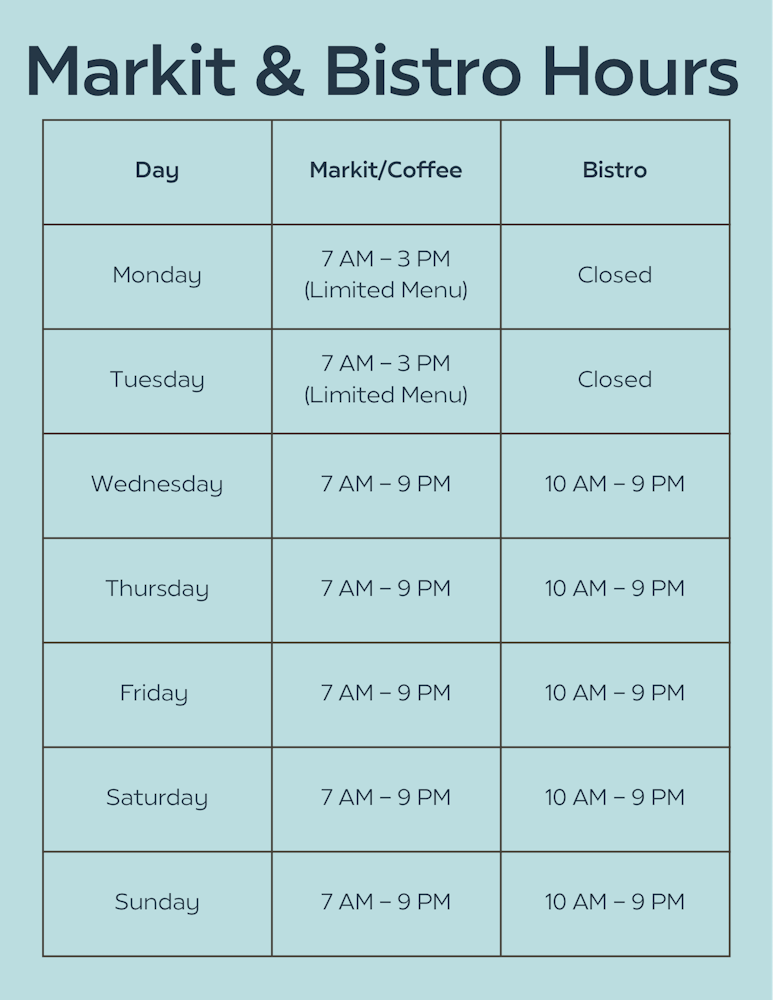 Get Directions
WE'RE ALL ABOUT
Coffee. Beer. Wine. Amazing Food. Collectively Cool Humans.
We're your collectively cool curated shopping mart bringing you everything you never knew you needed. We are bringing purveyors to our store who create and make products that taste good, are responsibly made, and reflect the diverse community which we are a part of. We don't stop there… We've created a seasonal chef driven fresh food menu, hand crafted coffee, and a handpicked wine and beer menu. Did we mention we have collectively cool humans doing this all for you to enjoy?! Yep, we did!
Collectively Cool Humans.
We're the team behind the scenes at KM. Our goal is to bring a dining and shopping experience that will leave your tastebuds wanting to come back for more. We've tasted, tested, and carefully crafted house made dishes. We've sourced local products, as well as purveyors from all over the country. Our goal is to make your experience unique, fun, and full of flavor! Say hi when you see us around the markit!
Karla Volkmuth

Chef

Kickass Chef making great food!

Heidi Stark

Founder/Owner

Hi! My name is Heidi Stark and I'm the founder of Kruse Markit. I'm an ex-banker turned entrepreneur (still recovering from my 9-5 days)! I've always been that girl looking for the next best coffee shop, market, and restaurant to try. After joining the great resignation, I realized th…

Jon Stark

Co-Owner

Hello! I'm Jon Stark, husband to the one and only, our Founder Heidi, and co-owner here at KM! I'm a tried-and-true MN Lifer, growing up across the river over in that foreign land we know as St. Paul. Then for college I made it all the way up to Moorhead and graduated from…

Caroline Glawe

Beverage Consultant

Cheers! My name is Caroline. I am so glad you find yourself exploring Kruse Markit's website. Careful attention to detail is the common thread weaving together neighborhood coffee shop, fresh market, healthy café, wine bar & bistro to create a groovy spot to gather your…
Contact Us
Send us a message and we'll get back to you as soon as possible.
Looking forward to hearing from you!